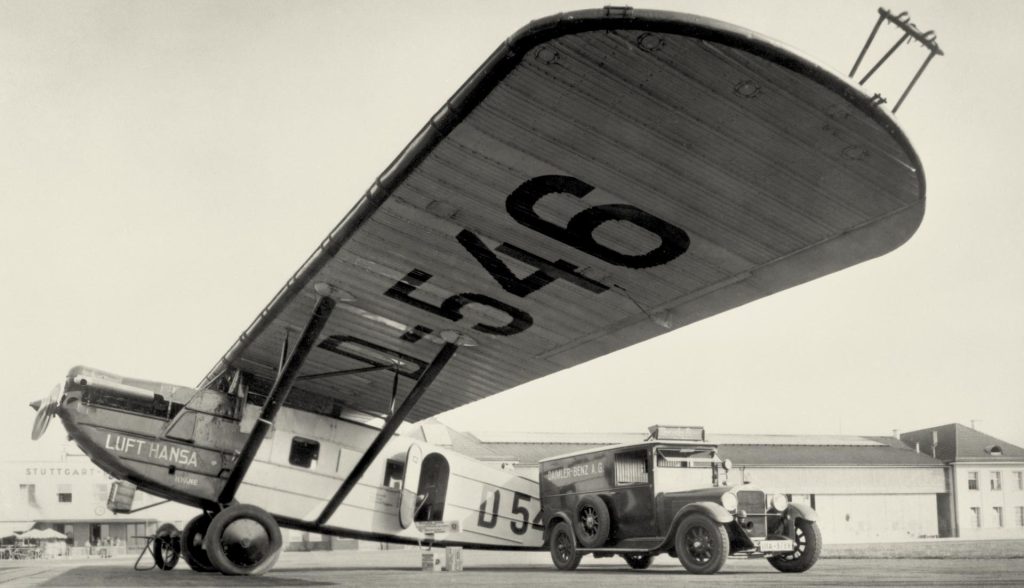 1915
Inauguration of the military airfield
1925
Opening of the national airport
1926
Foundation of Leichtflugzeugbau Klemm
1929
Landing of the "Graf Zeppelin"
1931
Opening of the German Aviation Museum
1934
Opening of the ocean route for airmail via Böblingen to South America
1937
Construction of the air base barracks
1938
Occupancy with military ground personnel
1945
Disbandment of the air base
1991/92
American forces clear the former airport site
2002
Foundation of the Zweckverband Ehemaliges Flughafengelände Böblingen/Sindelfingen (ZV-EFG) (association for the former Böblingen/Sindelfingen airport site)
2004
Renaming of the area to Flugfeld. Renaming to Zweckverband Flugfeld Böblingen/Sindelfingen
2006
Development of the airfield
2007
Public release, first building constructions
2008
First pile driving at "Langer See", first work on MOTORWORLD Stuttgart
2009
Opening on 12. und 13. September
Booking request guided tours
A guided tour of MOTORWORLD Region Stuttgart lasts approx. 45 minutes and costs € 130 in German and € 150 in English, plus VAT, per group, which should consist of a maximum of 25 people. The guided tour includes information about the history of the origins, the history of the former Württemberg State Airport and the current tenants in MOTORWORLD Region Stuttgart. You will be guided through the entire location, past the glassed-in workshops, glass garages as well as rental areas.
Gift certificate for a guided tour
For automobile enthusiasts, people interested in culture and history, you are always right with this gift! Vouchers as well as guided tours are available in German and English. Order easily by free mail at the following address: events-stuttgart@motorworld.de
Please let us know whether you would like to give away a German or English guided tour and what the billing address is. Please feel free to contact us at any time with questions or requests.