BMW M Motorsport, Mercedes-AMG, ABT Sportsline, Koenigsegg, Tesla, Fisker, NIO, INEOS and many other exhibitors with new vehicles and exceptional exhibits
Munich, 3 September 2023. With the Motorworld Mobility Days, Motorworld München, as the official cooperation partner of IAA Mobility 2023, is once again shining the spotlight on mobile passion from 3 to 6 September. Some 50 exhibitors will be presenting their highlights, while the diverse supporting programme will offer a networking platform and promises thrilling entertainment. The Motorworld Mobility Days, which are taking place for the first time, are spread over the premises of Motorworld München with the Dampfdom, Lokhalle, Kesselhaus and outdoor grounds.
"Visitors can look forward to a huge spectrum of mobility with everything from hypercars, classic cars, electric vehicles and racing cars, through to art, accessories and much more besides. They can inform themselves, take test drives, or simply go on a journey of discovery," says Andreas Dünkel, founder and CEO of the Motorworld Group. "We are looking forward to bringing together strong brands with great exhibits under one roof, and to welcoming numerous segment leaders and motorsport personalities on our stage for talk shows. With the Motorworld Mobility Days, we offer the international mobility scene a truly special platform to meet together and share experiences and ideas as part of the IAA Mobility 2023."
"Ultimate power, perfect elegance, transgression of technological innovations: cars are much more than just utensils. They represent mobile passion, and their manufacture is always a reflection of the innovative strength and technical capabilities of their time," says Dr Florian Herrmann, Bavarian Minister of State and head of the state chancellery, in his welcoming address. "The Motorworld Mobility Days combine nostalgia and vision in a unique way and put some serious horsepower onto the road heading into the future."
Home of Mobility: show stages, hypercars, racing cars and more
The Dampfdom at Motorworld München becomes the "Home of Mobility" at the event. On the AvD Entertainment Stage every day talk show guests will have their say on various topics: celebrities from the world of motorsports, representatives of mobility-related associations and clubs, as well as insiders for classic car topics.
The Mobility Stage, likewise situated in the "Home of Mobility", also features not only car care products from manufacturer Sonax, a Preferred Partner of Motorworld, but also splendid examples of multifaceted mobility: innovations such as the PAL-V Liberty flying car or off-road vehicles like the 4×4 Grenadier from INEOS and converted jeeps from ORZ. In addition, SEMCO will be showing the best that megacar manufacturer Koenigsegg has to offer here with different models every day. The first of these on Sunday will be the Koenigsegg Jesko.
The stages will be flanked by prestigious exhibitors with exceptional vehicles. Mercedes-AMG Motorsport, for example, will be showing the Mercedes-AMG GT3 #27 from the WINWARD team with which David Schumacher will be competing in this year's DTM. Also on display will be the Mercedes-AMG F1 W14 E PERFORMANCE, which is being driven this season by Lewis Hamilton and George Russell. On the sporting front there is HWA AG, which provides the most successful team in the DTM and is a sought-after partner in the development of high-performance vehicles. They will be showing an Aston Martin Vantage DTM and a Bussink GT C Speedlegend. In timing with the 30th anniversary of the first 24-hour race won by Roock Racing, Fabian Roock will be placing special eye-catchers in the spotlight, among them a Porsche 992 GT3 RS with special rims. He will also be informing visitors about the Roock RST 570, which is being built as a limited edition of 30 units to mark the anniversary. ABT Sportsline, leading tuner for Audi and VW Group vehicles, is also bringing along a special model: the ABT RS6 Legacy Edition, which is limited to 200 units.
BMW M Motorsport will be represented by, among other vehicles, a BMW M4 GT3. It has been the new spearhead of BMW M Motorsport in GT racing since the 2022 season. Its greatest successes to date are winning the Spa-Francorchamps 24-hour race in 2023 and the DTM title for Sheldon van der Linde and Team Schubert Motorsport in 2022.
The automotive highlight of the AvD presentation will be the "Röhrl x 911" Porsche, which Porsche specialist Rafael Diez built especially for, and in close collaboration with, motorsport legend Walter Röhrl on the basis of a sports coupé from the mid-1970s.
The pulses of fans of historic Porsche models will also race at the sight of Ande Votteler's Porsche 356 Convertible D, built in 1959. The "untouched original" is not only one of the most sought-after Porsche models ever made, but also has a prominent previous owner: the famous American comedian and actor Jerry Seinfeld.
This year, the Ferrari 348 TS from 1993, which "Schwarzenbach – Agentur für klassische Automobile" is offering first-hand, unmodified and in its original paintwork, qualified for its German H-numberplate for classic cars. Voltimer offers customers historic cars with a quiet sound. The company transforms classic cars into electric vehicles, and will have an electrified Mercedes Benz 230/8 from 1973 on show.
Opel will be represented on the rotunda in front of the Dampfdom with two selected models. The Rüsselsheim-based brand will be presenting the Opel Astra GSe together with the award-winning Opel Manta GSe. The latter is based on the legendary 1979 Manta A and combines the appearance of a style icon with state-of-the-art technology for a sustainable drive unit.
COBLOR will also have something really special in store for motorsport fans: The watchmaker is presenting the world's only watch with a dial made of 95-year-old original Nürburgring racetrack asphalt. It is limited to 500 units.
Insurers Allianz focuses on classic cars and sustainability, and brings an extremely special commitment to the Motorworld Mobility Days: "vr4Kids", an inclusion project for children and adolescents using virtual reality. Visitors can see for themselves what this is all about in the specially set up "VR Experience Room" on the Allianz exhibition area.
Art gallery in the Home of Mobility
On the gallery level in the Dampfdom, various artists are to be found in the art gallery, including Iconic Speed Art, Andreas Hentrich or Bastian Söllner with retro perspektive. The latter takes the beholder of his artwork on a journey back to historic race tracks and legends of the road. Pascal Göbel has also combined his passion for art and automobiles, and creates individual paintings and drawings of vehicles in all sizes.
Automobile objects for a fine ambience – that's what the Fernlicht manufactory offers with its floor lamps, which are made from historic vehicle headlights and equally historic tripods from the 1920s-1960s.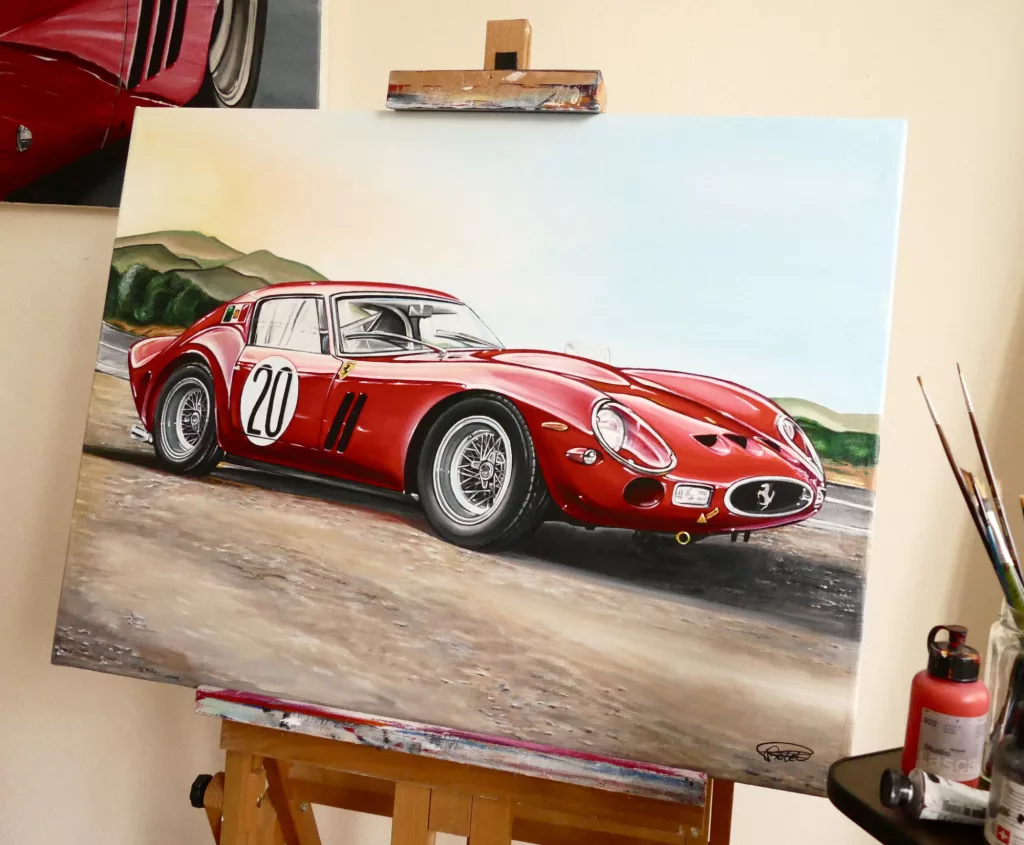 Home of History: classic cars, restoration, bikes and more
In the Kesselhaus – the "Home of History" – Ponton Manufaktur will make the hearts of classic car lovers beat faster by shining the spotlight on a 1958 220SE Coupé with a steel sliding roof and indicator steering wheel.
HK-Engineering is one of the experts worldwide for the Mercedes-Benz 300 SL. They are in Munich with their historic HK-Engineering racing transporter and a 1955 HK-Engineering racing gullwing.
The right address for restoration projects is Martelleria, who specialise in sheet metal-working, bodywork construction and classic car restorations. One of the most famous vehicles that the company has helped to restore is Elvis Presley's former BMW 507, which has already been displayed in THE STUDIO by BMW at Motorworld München.
911 MILLENNIUM presents a masterpiece of superlatives: the world's largest book about the 911 Porsche – a work of art to leaf through in XXL panorama format measuring 1.12 x 0.44 metres, strictly limited and numbered, with exclusive photographs by the internationally renowned car photographer René Staud.
A real bike feeling is guaranteedat House of Flames with its Harley Davidson motorcycles. They are showing several machines, among them an FXST 2022 converted by House of Flames and the FXLRST 2023 Low Rider ST special model. The "Home of History" is rounded off by a special show with selected historic vehicles from various carmakers.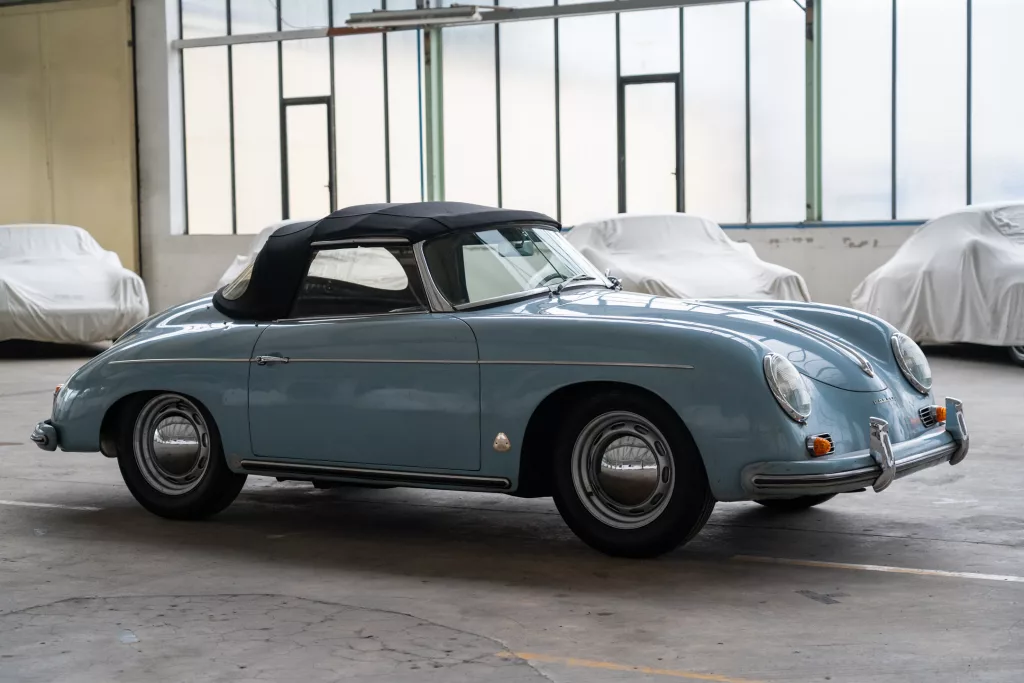 Home of Passion: electric vehicles, tuners and off-roaders
The Lokhalle has been transformed into the "Home of Passion". Various exhibitors are presenting themselves here in this central location. Exklusive Fahrzeuge are bringing with them the LaFerrari, a hybrid supercar limited to 499 units which was unveiled at the 2013 Geneva Motor Show. Another eye-catcher is the bb Rainbow Porsche, the first Turbo Targa converted by bb auto, which was the undisputed top version of the 911 series in the 1970s and featured in the 1980 film "Car-Napping". Also on display will be its successor, the bb Porsche Targa Moonracer.
Future-oriented and sustainable: The American electric car manufacturer Fisker is presenting for the first time in Europe the Fisker Ronin, the world's first all-electric, four-door convertible GT sports car. It can be seen exclusively at Motorworld from September 4 to 10. Novus is setting new standards for electric motorcycles with the NOVUS One, the first handmade, full carbon motorbike produced as a limited edition. It can also be taken for a test ride.
Indestructible British spirit and design combined with German engineering – this in turn characterises the Grenadier from INEOS. This new four-wheel-drive vehicle is designed to overcome any challenge with its unrivalled off-road capabilities, durability and reliability.
S-Tec is the right point of contact when it comes to the cult vehicles Puch/Mercedes G Cabrio and Pinzgauer. For Acuma Offroad, the specialist revitalises premium vehicles in the ACUMA ONE design in line with the customer's wishes, and will be bringing one of them to Munich.
For more than 27 years, ORZ has been a by-name for exclusive and high-quality accessories for the Jeep and RAM brands. Four suitably converted Jeeps will be on display at the Motorworld Mobility Days, including an ORZ Vehicles JT Hellcat 45-9 and an ORZ Vehicles JL EcoDiesel 45-7.
Home of Experience: Off-road obstacle course with ramp and test drives
On the outdoor area under the name "Home of Experience", off-road suppliers INEOS, S-Tec and ORZ will be making hearts beat faster when they display their 4×4 off-road vehicles on the off-road obstacle course and invite interested onlookers to take a ride.
For several models from the electric car manufacturers Tesla and NIO, the motto is likewise "Don't just look, drive it!". Tesla is here with their Model 3, Model Y, Model X and Model S, NIO with the ET5 and ET7 saloons and the electric EL7 SUV.
Other exhibitors include Italdesign Giugiaro (supercars), the Dörr Group, Automobile Meilensteine (car sharing with classic car vehicles), CanVanCan Medienproduktion, CERAM Intertrade (V-class conversions), HerzoGin, Red Bull DJ Truck, Car Throne, Big Norm Customs, Silberform AG, Retromotion, Burkhardt Wendt Kunsthandel, Mobil in Deutschland e.V., GAST EVENT, etc.
MOTORWORLD Mobility Days
3 – 6 September 2023 (Sun – Wed), daily 10 a.m. – 6 p.m.
MOTORTREFF
3 September 2023 (Sun), 10 a.m. to 6 p.m.
MOBILITY Days Party
5 September 2023, from 6 p.m.
MOTORWORLD München
Am Ausbesserungswerk 8
80939 Munich
Eintrittskarten
Day ticket
€10,00
Event ticket
€25,00
Family day ticket (2 adults, 2 children up to 14 years of age)
€15,00
Schoolchildren & students (school/student ID required)
€5,00
Senior day ticket (from 60 years of age)
€5,00
Information and tickets: motorworld-miaa.de
About the MOTORWORLD Group
The independent MOTORWORLD Group emerged from the DÜNKEL Holding corporate group based in Schemmerhofen (Baden-Württemberg, Germany). The origins of the family-run company date back to 1930. The Motorworld Group, which has also received several international awards for its projects, develops, builds and operates worlds of experience dedicated to mobile passion, and as a whole is considered to be the world's largest brand-neutral mobility centre. With over 40 of the world's most valuable and exclusive vehicle brands, it brings together the brand who's who of the entire mobility industry.
The first location was Motorworld Region Stuttgart in Böblingen, which opened in 2009 and has been continually expanded several times. Further projects and activities under the MOTORWORLD® brand have been initiated in recent years. Following on with the same concept as Motorworld Region Stuttgart, Motorworld Köln-Rheinland opened in June 2018. It is home to one of the most significant collections in motorsport: The private collection of Formula 1 legend Michael Schumacher.
With Motorworld München, an automotive world of experiences in a new dimension was opened in May 2021. An imposing meeting place for car lovers and bikers of every hue. It is Munich's new highlight for driving culture and lifestyle, as well as events and conferences. Visitors will find supercars, collectors' cars, limited editions, classic cars and classics-to-be, bikes and boats, as well as a comprehensive spectrum of automotive service providers and specialised workshops, numerous shops, the four-star AMERON München Motorworld hotel, eight catering establishments, exceptional conference rooms, glass boxes for enthusiasts' vehicles, and much more besides.
Motorworld München is located on the site of the former Deutsche Bahn railway repair shop, covering 75,000 square metres, in Munich's Freimann district. Its centrepiece is the impressive Lokhalle, which is a listed building. With its gigantic dimensions – 185 metres long, 90 metres wide and 18 metres high – it is one of Europe's largest self-supporting steel structure halls.
Other already partially active locations currently at the planning stage or under construction are Motorworld Zeche Ewald-Ruhr, Motorworld Luxembourg and Motorworld Mallorca. Locations in keeping with the Motorworld Manufaktur concept are to be found in Berlin, Rüsselsheim and Zurich. The Motorworld Village Metzingen focuses on events.
To satisfy the ever-increasing requirements where environmental protection and efficiency are concerned, the Motorworld Group relies on regenerative energy sources, including photovoltaic systems and combined heat and power plants. This saves over 700 tonnes of carbon dioxide every year.
www.motorworld.de/muenchen/
www.instagram.com/motorworld_muenchen/
www.facebook.com/motorworld.muenchen/